Leinwand: Premium 340g/qm satin, Premium 420g/qm satin, Premium 380g/qm metallic
Wedge frame thickness: Gallery approx 1,8cm or XXL approx 3,8cm
Stretched on a wedge frame, ready for hanging, or rolled canvas without a wedge frame for self-stretching.
Our high-quality cancas give each motif a noble & natural character. Each print is 75 years resistant to UV rays, moisture and scratches by the use of ultra-modern original inks and latest printing technologies and can also be easily used in rooms with high humidity.
You can choose between 3 different premium canvas:
Canvas Premium 340g/m² satin:For details lovers this canvas is the first choice. The fine surface allows precise color transitions and sharp edges. Surface: silk matt
Canvas premium 420g/m² satin: The classic canvas, suitable for all motifs and the best choice for large sizes. Surface: silk mat
Canvas premium 380g/m² metallic: For those who are looking for something special. The contrast between saturated depths and bright metallic colors makes your picture appear in a whole new glow. Surface: glossy metallic
You will get your canvas picture framed, delivered ready for hanging home or order a rolled canvas without a wedge frame for self-stretching.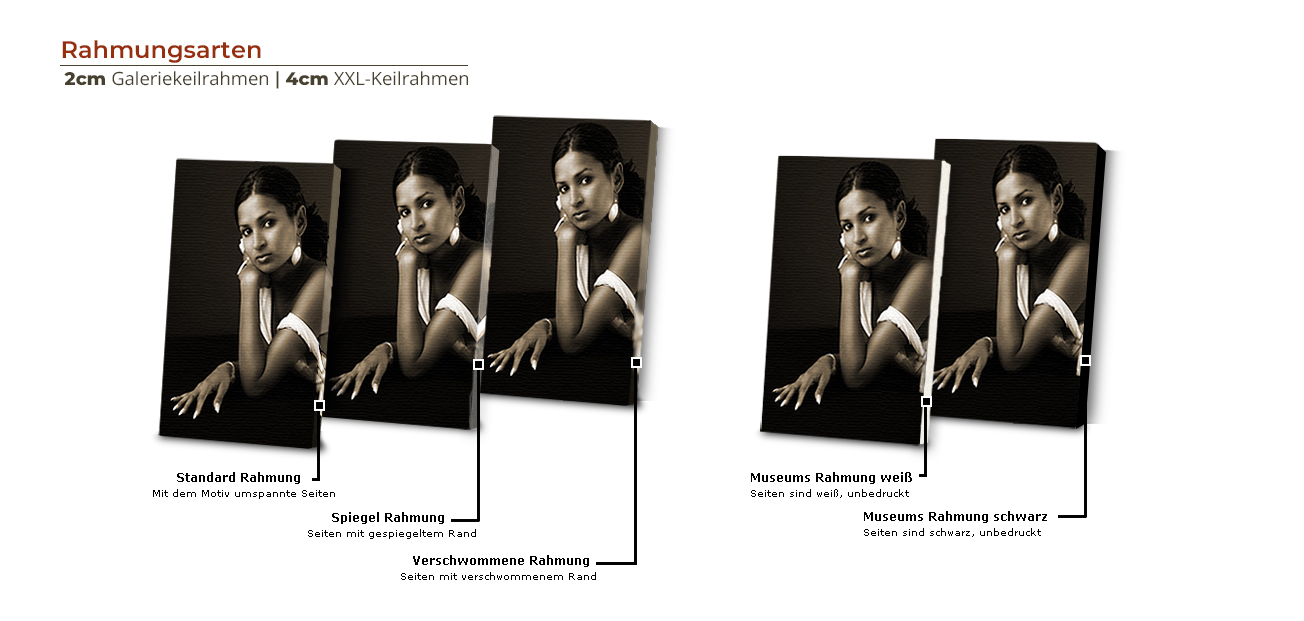 Margins of the canvas images
The stretched canvas picture can be made with three types of borders: standard, mirror and museum framing.
Standard framing: The border of the image is turned over to the wedge frame and is no longer visible on the front of the canvas. You get printed margins. The folded area is not displayed in the preview.
Mirrored framing: The border of your image is mirrored into the part that is turned over to the wedge frame. It eliminates any of their motif on the edge of the area and still have color printed edges.
Verschwommen: Die Seiten sind weichgezeichnet bzw. verschwommen. Nur der verschwommen hinzugefügte Rand wird über die Seiten des Keilrahmens gespannt. Vorne bleibt das komplette Motiv erhalten.
Museum framing: As with the mirror framing, no image part is left on the edge area, you have white image margins.
To further refine your canvas picture further and create a focal point, you can additionally order floater frame it.
Further information about our real wood floater frames you will find here
Mit unseren hochwertigen Schattenfugenrahmen können Sie Ihre Leinwand-, Board und Acrylbilder veredeln, sie bilden den krönenden Abschluss für Ihr Kunstwerk. Sie bestehen aus hochwertigem, verwindungssteifen Echt-Holz und sind in verschiedenen Farben bestellbar.
Das Bild wird mit einen Abstand von ca. 0,5cm zum Schattenfugenrahmen eingerahmt, dieser Abstand bildet die "Schattenfuge".
Schattenfugenrahmen sind eine moderne Alternative zu rahmenlosen Bildern. Sie werten das Bild auf und geben ihm einen stilvollen Charakter.
Sie erhalten Ihr Bild bei einer Bestellung mit Schattenfugenrahmen fix und fertig eingerahmt und können es nach dem auspacken direkt aufhängen.
Veredeln Sie Ihr Bild
mit einem hochwertigen
Schattenfugenrahmen
Bei einer Bestellung aller Leinwand-, Board- und Acrylbilder können Sie diese optional auswählen und mitbestellen.

Detailansicht Schattenfugenrahmen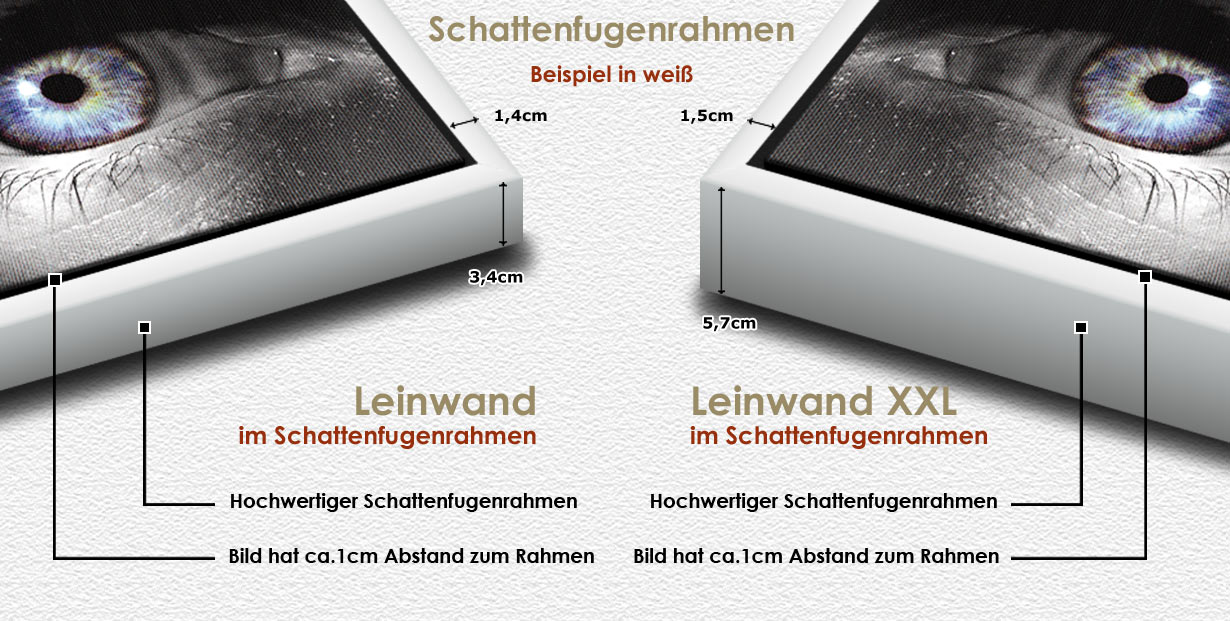 Mit unserem LED-System können Sie jedes Bild zu einem strahlenden, indirekt beleuchteten Kunstwerk machen.
Passend zu Ihrem Motiv oder Ihrer Umgebung können Sie die Farbe des Lichtes bequem per Fernbedienung einstellen.
Ebenfalls ist es möglich, das Licht zu dimmen und somit die Helligkeit zu regulieren.
Mit dieser einzigartigen Möglichkeit schaffen Sie sich eine wunderschöne, dezente Lichtquelle im Raum und Sie betonen damit die Ausstrahlung des Bildes. Zu besonderen Anlässen stehen auch 4 Farbwechsel-Programme zur Verfügung.
Sie erhalten das LED System fertig montiert an Ihrem Bild. Sie brauchen also nur noch den Stecker in die Dose stecken.
Das extra flache, weiße Anschlusskabel ist sehr dezent und wird kaum störend an der Wand wahrgenommen.
Jedes Bild ein hochwertiges
Lichtelement, mit unserem
LED System
Bei einer Bestellung aller Leinwand-, Board- und Acrylbilder können Sie diese optional auswählen und mitbestellen.